---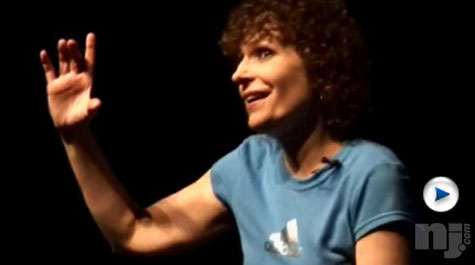 Michael Monday, Video Report for the Star-Ledger
From a 2013 Infiniti to a graffitied 1978 VW bug, cars, trucks, motor homes and cycles shape who we are. In this audience-interactive poetry performance and follow-up workshop, Susanna Rich explores how cars, trucks, and driving shape our personal, business, educational, and community lives.
---
The Star-Ledger
Blairstown artist driven to bring her words to life on the stage
By Tracy Ann Politowicz/Star-Ledger Staff
March 26, 2010, 6:11PM
"Do I need more honking?" the curly-haired woman asks with a straight face, leaning forward slightly.
The man sitting opposite her, one of a few other people in the room, replies, "Yes, you should add that." She continues speaking to a larger make-believe audience: "And I want all of you to help me get through this. Can you do a honk? Can you just turn into an audience full of geese?"
Adopting the tone of a TV preacher, Susanna Rich begins reciting her poem about drivers who adhere to the speed limit so strictly, they seem to be hugging it: "May the red wand on my speedometer align, number for number… "     Click here to read the entire interview.