---
Video by Matthew Reber
Since portraying Anne Frank in her Pope Pius XII High School senior class play, Susanna Rich has been committed to promoting interfaith understanding and world peace. In ashes, ashes, she embodies and enacts the testimonies of Holocaust victims, survivors, and liberators. Weaving the past with the present; poetry with art, music, and stagecraft; this production is remembrance and hope — a vigil for as well as a celebration of human dignity and love.
---
"Shoes Along the Danube," the finale poem, won the 2013 Ekphrasis Prize for Poetry.
---
Dr. Paul Winkler, Executive Director of The New Jersey Commission on Holocaust Education, recommends ashes, ashes as a vehicle to meet the state mandate for Holocaust/Genocide Studies.
---
Out of the ashes
Poet finds bright light in a dark subject
by Elaine Durbach
NJJN Bureau Chief/Central
April 6, 2011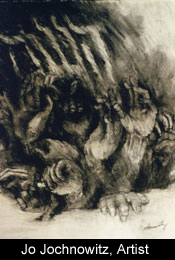 The late Sister Rose Thering, the indefatigable campaigner for Jewish-Christian understanding, said, "Our greatest hope is to experience through the arts the realities suffered by those who have been the victims of institutionalized ignorance and hate, so that there will be no more victims and no more perpetrators."
Her comment was made in response to work by poet Susanna Rich and artist Jo Jochnowitz. The two, both teachers at Kean University in Union, first collaborated in 1994 and are doing so again, this time with Jochnowitz's stark drawings of Holocaust images setting the visual tone for Rich's performance of her poems. Read more….